4th Grade Social Studies - Austin, TX
Take your 4th graders to Austin with "Lucy the Longhorn"! Your students will explore the legislative branch of government as they tour the Texas State Capitol! Then they'll step back in time to Texas in the 1800s before, during, and after the Texas Revolution at Pioneer Farms. Historical reenactors from Battle for Texas: The Experience will present life in the 1820s-1860s on actual homesteads, an engaging Texas Revolution skit, musket-firing demonstrations, and an interactive and up close look at rare Texas Revolution artifacts. The best part is, we handle the details so you don't have to. Charter bus? Check. Reservations? Check. Fun, meaningful, TEKS-based curriculum for the entire day? Check. Join us on "The Legend of Texas" for a day your students won't soon forget!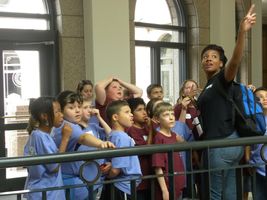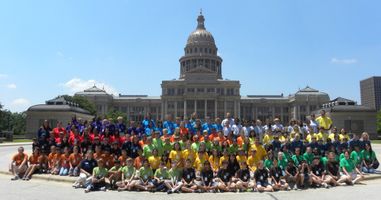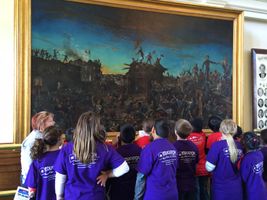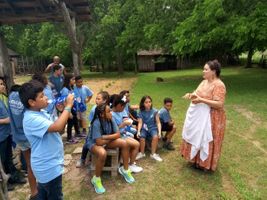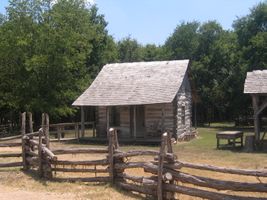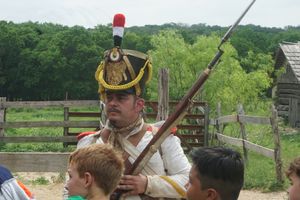 "Program is informative, educational, and relevant. It is interactive and engaging for students."
$115 per participant. Inclusions:
"The Legend of Texas: The Experience" program at Jourdan-Bachman Pioneer Farms created exclusively for this field trip by Battle For Texas: The Experience
TEKS-based activities, and pre- and post-program curriculum
Pre-program training for participating adults
Education in Action Program Director travels with your group to coordinate all details
Education in Action Facilitator on each bus to lead student activities during travels
Charter bus transportation
T-shirt, group picture, Lucy the Longhorn plushy, and other souvenirs for each participant
Curriculum incentives
Lunch and dinner
Coordinating educator's and Administrator's participation fee
Minimum number of participants is 45.
Dallas/Fort Worth area schools depart at 6:30 am and return at 8:30pm
Cost is $115 per participant, teacher, and chaperone.
"Great learning experiences that engaged students. At the end of the day my students knew their Texas history!"
-Teacher, Garland ISD
"It engages the kids, and they are able to see what they learned in the classroom come to life and make sense."
-Teacher, Mansfield ISD
"The students had a wonderful time, learned a lot, and made meaningful connections to what they had learned in class."
-Teacher, Duncanville ISD