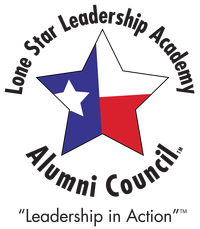 Important Lone Star Leadership Academy Alumni Council Message
You registered for the Lone Star Leadership Academy Alumni Council by the September deadline. I have been sending e-mails about the assigned and required Alumni Council activities since October with no responses. At this time, you have not completed any of the three requirements to be a Council member.
Information to Complete the Module Lessons
To best prepare for this Leadership Portfolio, we recommend the following:
· Create an Alumni Council notebook using a binder of your choice.
· The three lessons this year will be experiential – hands on - in nature. As a result, you'll want to print off each lesson and then place them in your Leadership Portfolio binder.
· We have added a creative cover for your binder on the last page of this first module lesson. At the end of each lesson this year, you'll be asked to fill in what you've learned about your SHINE on this cover.
· Consider using the binder as a place to also organize information related to your Alumni Council service project.
· Save this binder, and you can build upon it during future years with the Council and other lessons!
In order to access the printable module and reflection questions, follow these steps:
1. Go to: https://educationinaction.org/alumni-council
2. Click on the blue button: Alumni Council – Members Only
3. Use password lonestarac
4. Click on Leadership Lessons (2nd blue title under "Information")
5. Click on YEAR (your year # here) ALUMNI MEMBER
6. Use password Year1 if you are in YEAR 1, Year2 if you are in YEAR #2, Year3 if you are in YEAR #3, Year4 if you are in YEAR #4, Year5 if you are in YEAR #5
· Notice the questions below the blue button. These will be answered AFTER completion of the module pages.
7. Click on your lesson – MODULE 1 LESSON and/or MODULE 2 LESSON
8. Click the blue button to download and print the lesson and then place it in your Leadership Portfolio.
9. Begin by reading the module and completing each activity on the pages as you go.
· The reflection questions you will respond to on the website are located on the last page of the module.
10. Next, go back to the website page and respond to the questions.
· You will type your information directly into the boxes and click SUBMIT at the end.
11. You will get a green check mark response after submitting.