Alumni Council Members' Service Projects
Ninety outstanding students from across Texas completed the 2022-2023 Lone Star Leadership Academy Alumni Council program. Members represented 48 school districts, nine private schools, one charter school, and one homeschool. You may read about each of the member's individual projects, below!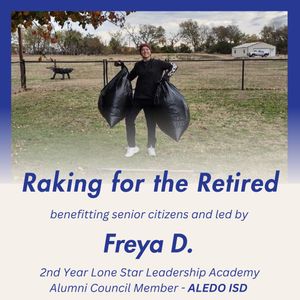 Aledo ISD
Freya D., 2nd year member
Project: Raking for the Retired - Freya, along with three other hardworking girls, helped the retired individuals in their neighborhood rake up leaves that had been falling off their trees for months. The girls filled ten bags full of leaves, twigs, and other debris left in the retirees' yards. The couples they helped were very appreciative that they wouldn't have to go out in the cold and rake up their yards themselves. "I was shocked by how many retired people felt like they had to do all their yard work on their own, so helping them clean up their yards gave me a way to give back." Sponsor: Delanet Staats, Teacher.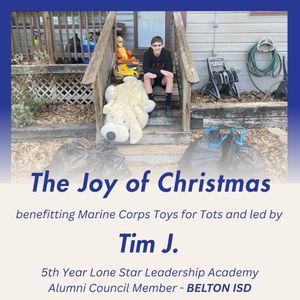 Belton ISD
Tim J., 5th year member
Project: The Joy of Christmas - Tim and his National Honor Society peers collected more than 100 toys to benefit children in the Marine Toys for Tots program. These toys gave many children a renewed joy in Christmas and enabled them to see the true meaning of the season. The children received all they wanted and more. "I learned that leadership requires selfless service. I also learned that leadership means working together for a single purpose including working through any challenge or disagreement. Working productively with others while encouraging them is an important part of leadership." Sponsor: Emma Ziegler, NHS Sponsor.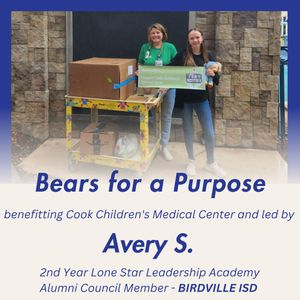 Birdville ISD
Avery S., 2nd year member
Project: Bears For a Purpose - Avery, and a friend, collected bears donated by students at North Ridge Middle School to give to the Spiritual Care Department at Cook Children's Medical Center. They collected 80 stuffed animals. The stuffed animals will be given to patients who have to stay overnight at the hospital. "This project has helped me to learn how to coordinate individuals to work together as a group toward a common goal." Sponsor: Shawnee Schumann, Teacher.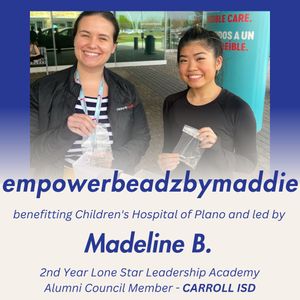 Carroll ISD
Madeline B., 2nd year member
Project: Empower Beadz by Maddie - Madeline and her friends made about 90 bracelets out of natural healing stones with positive charms which were donated to the Children's Health Hospital. She hopes the children loved the bracelets. "Even though this was the second year of me doing this project it didn't get easier. There were many bumps along the road, but we got through them because we never gave up." Sponsor: Audrey Baek, Mother.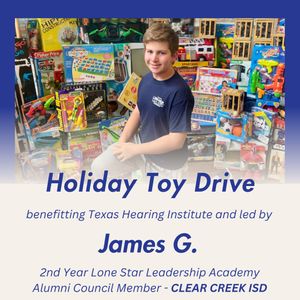 Clear Creek ISD
James G., 2nd year member
Project: Holiday Toy Drive - James enlisted the help of the members and leadership of his high school's Student Council to sponsor a toy drive. Through the toy drive, the student body and faculty collected 147 new toys. Additionally, James promoted the toy drive within his community and collected an additional 184 new toys. In total, James collected 331 new toys to benefit hearing impaired children assisted by the Texas Hearing Institute. The students and faculty of the Texas Hearing Institute were overwhelmed with joy to receive so many toys that would benefit the children around the holiday season. "What I learned with this service project is that leadership consists of many things, for example, being able to successfully plan, implement, and execute the plan. However, it is equally important to have the ability to seek the help of others to achieve a common goal that will positively impact not only the community but others as well." Sponsor: Christina Cavaliere, Assistant Principal.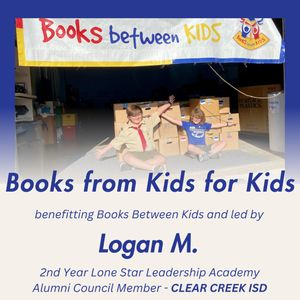 Clear Creek ISD
Logan M., 2nd year member
Project: Books From Kids For Kids - Logan enlisted the help of students and staff at three schools to gather 3,781 new and gently used books to donate to Books Between Kids, an organization that gives books to kids in the Houston area. This project benefited both the children and the people doing the project. "We learned the joy of giving other people the gift of education." Sponsor: Toni Davis, Counselor.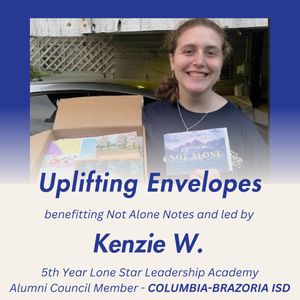 Columbia-Brazoria ISD
Kenzie W., 5th year member
Project: Uplifting Envelopes - Kenzie recruited members of her school's book club to decorate blank cards to send to Not Alone Notes. Her group of 12 made 40 cards to give to people with OCD and other related disorders, to make them feel seen and cared for. "When we all were working on the cards together, it made me feel grateful for the community I have. My club worked together to make a lot of cards, and that is an invaluable experience that I'll never forget." Sponsor: Candace Clifton, Church Leader.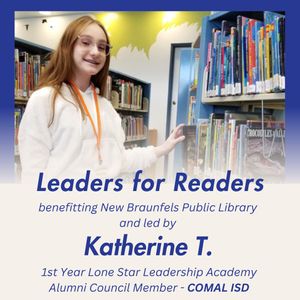 Comal ISD
Katherine T., 1st year member
Project: Leaders for Readers - Katherine and a friend served as a Youth Volunteer at the New Braunfels Public library. While duties varied, Katherine found organizing bookshelves in the Children's Room surprisingly satisfying and fun. Katherine said, "Early childhood reading is so important; when shelves are neat and tidy, children are able to locate their favorite books to read. I improved as a leader because my project was unsupervised necessitating initiative to develop an action plan to accomplish the goal." Sponsor: Whitney Haslerr.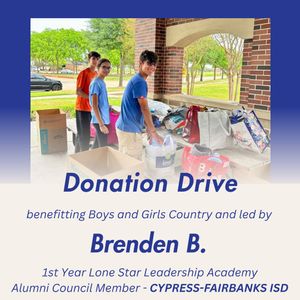 Cypress-Fairbanks ISD
Brenden B., 1st year member
Project: BGC Donation Drive - Brenden, his soccer teammate Antonio, and his younger sister held a donation drive to benefit Boys and Girls Country. They collected over 20 boxes of non-perishable food, clothing, hygiene supplies, cleaning supplies, bedding, bath supplies, and household appliances. They helped provide necessities to an organization that gives a supportive home to abused and neglected children so they can have a better future. "I felt good knowing what I was doing was helping others." Sponsor: Megan Shivers, Bridgeland Community Lifestyle Manager.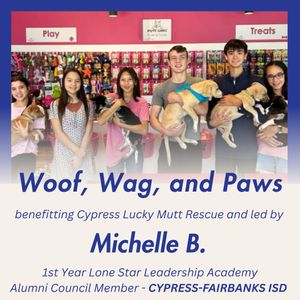 Cypress-Fairbanks ISD
Michelle B., 1st year member
Project: Woof, Wag, and Paws – Michelle, her older brother, and two of her classmates hosted a donation drive and adoption event benefiting Cypress Lucky Mutt Rescue at Woofgang Bakery. This adoption event benefited dogs in finding a forever and loving home. In addition, they collected puppy food donations, toys, crates, pee pads, and $300 to donate to Cypress Lucky Mutt Rescue. "It felt amazing to help dogs find a forever and loving home. This is important to me because I have three dogs at home. It felt great to do something special to me." Sponsor: Regina Gonzalez, Store Owner.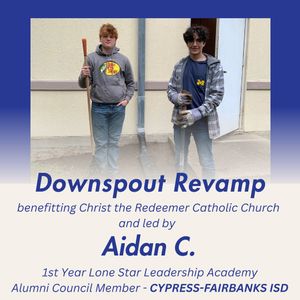 Cypress-Fairbanks ISD
Aidan C., 1st year member
Project: Downspout Revamp - Aidan Chaidez recruited a friend to help repair and improve a drainage issue with the downspouts on one of his church's buildings. The improvements included the repair of six downspouts to divert the water away from the building foundation. The improvements will prevent puddling of water and damage to the building. "I learned the importance of in-depth planning, and problem solving as a team." Sponsor: Arturo Chaidez, Parent.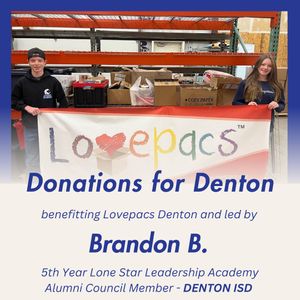 Denton ISD
Brandon B., 5th year member
Project: Donations for Denton - Brandon asked for the help of his AFJROTC unit to donate food. They successfully filled three large boxes of food which they donated to Lovepacs Denton for distribution to student across the Denton area. "This experience opened my eyes to how fortunate I am to have food on the table every day. I also learned there are kids in my community that are not as fortunate. From a leadership perspective, the project showed me when you get people to work together, they can achieve great things." Sponsor: Courtney Martin, Community Engagement Specialist.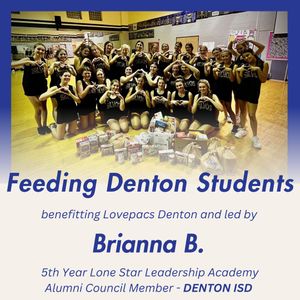 Denton ISD
Brianna B., 5th year member
Project: Feeding Denton Students - Bri and her Silverados Drill Team collected over five large boxes full of granola bars, oatmeal, and canned goods. She asked everyone to donate any of the listed food to help Denton students in need of food for the holidays. They donated the food to Lovepacs to distribute to students to have over the holiday break. "This experience helped me understand how lucky I am to be able to have a full meal everyday and especially on holidays. It made me see how I can help my community and how I can use my leadership skills to help the people around me." Sponsor: Courtney Martin, Community Engagement Specialist.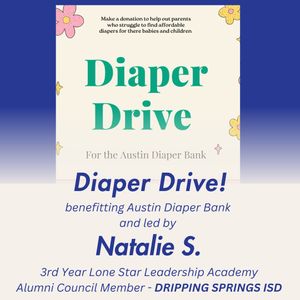 Denton ISD
Natalee S., 3rd year member
Project: Diaper Drive! - I gathered diapers for the local diaper bank in my town. "This experience has helped me improve as a leader, because it opened my eyes to the many groups of people that need help." Sponsor: Angela Gamez.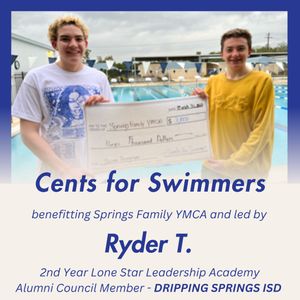 Dripping Springs ISD
Ryder T., 2nd year member
Project: Cents for Swimmers – Ryder and a friend from Dripping Springs High School helped raise over $3,000 for their local Springs Family YMCA. The money donated went towards awareness for the drowning prevention lessons they offer along with swim equipment for their team. "I really hope that this project touched the hearts of everyone in my community." Sponsor: Octavio Sanchez, South Austin Aquatic Director.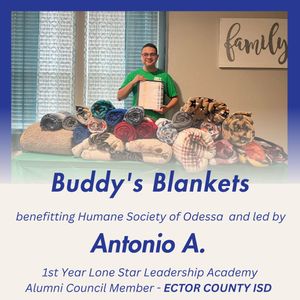 Ector County ISD
Antonio A., 1st year member
Project: Buddy's Blankets - Antonio and five members of his family and friends collected blankets for their local Humane Society. The group collected over 30 blankets to donate to the organization. This has lead to more animals being warm and healthy throughout the winter season. "I learned how to work with others as efficiently as possible as to help our wider community. I also learned the value of time management and overcoming unforeseen issues, each of which have made me a more durable leader in times of distress." Sponsor: Cari Rocha, Parent.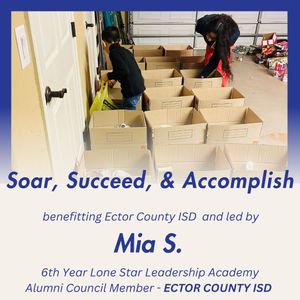 Ector County ISD
Mia S., 6th year member
Project: Soar, Succeed, and Accomplish - Mia and her brother with the help of Lucky's Septic Service, collected frozen turkeys and canned and boxed goods to donate to 25 families within her school district that would otherwise go without a hot thanksgiving meal during the thanksgiving break. With the assistance of Communities in Schools, families who would benefit from these thanksgiving meals were identified. "I have been blessed and I like to take the lead and help others feel blessed by helping in any way I can." Sponsor: Luis Nieto, Owner, Lucky's Septic Service.
El Paso ISD
Katherine K., 5th year member
Project: Hygiene for the Holidays - Katie enlisted the support of the Coronado High School Band and Key Club to collect 250 hygiene products benefiting the clients of the Opportunity Center for the Homeless, exceeding the original goal by 150%. The holiday season can be very stressful for those struggling to meet their basic needs and the provision of personal care items may help those in need with improving their ability to be more self-sufficient while also improving their outlook on life during the holiday season and beyond. The success of the project over the holidays sparked a second hygiene drive in the Spring semester. "The overwhelming support of the Coronado High School Band and Key Club reminded me that possibilities are endless through acts of service and kindness as a leader and motivated me to continue to serve the community in a second hygiene drive in the Spring semester." Sponsor: Maggie Ensley, Teacher/Coach.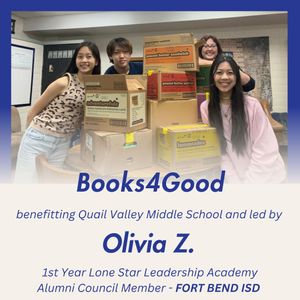 Fort Bend ISD
Olivia Z., 9th grader, Clements High School, 1st year member
Project: Books4Good - Olivia and Lana organized and executed a book drive called Books4Good, and recruited a student from Dulles High School to help sort the donated books. They collected 291 elementary and middle grade books from their community, with 52 of those books donated to the Quail Valley Middle School Library and 239 books donated to the Sienna Branch Library. This project impacted students in the Fort Bend ISD community by raising the availability of books within Fort Bend ISD to enrich the minds of many more young readers. "I have learned that true growth and development come not only from our successes, but also from our failures. Embracing the lessons learned from both has allowed me to lead with greater empathy, resilience, and a stronger commitment to continuous improvement." Sponsor: Brittany Revia, Dulles High School ELA Teacher.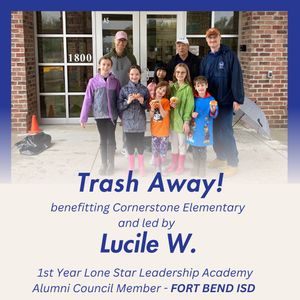 Fort Bend ISD
Lucile W., 1st year member
Project: Trash Away! - Lucile, two of her friends, and her family picked up trash in front of Cornerstone Elementary School and along the path of a nearby river after a rainstorm. They filled seven trash bags with trash. This benefited the animals, the plants, and the river. When they were finished, they felt proud that they had cleaned up a part of their community. "The weather tested our ability to keep going, but we did, and that made me feel like a more encouraging leader. We felt proud of our work when we finished." Sponsor: Jack Exum, Teacher.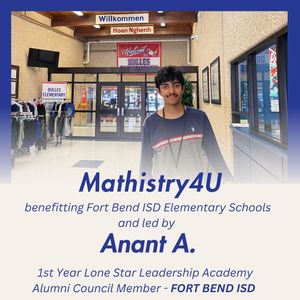 Fort Bend ISD
Anant A., 1st year member
Project: Mathistry4U - Anant visited Dulles Elementary School to demonstrate interesting chemistry experiments! Together with his sister, he has fostered the seeds of curiosity in young minds and has donated over 20 kits to underprivileged students. They have spread the love of chemistry, enabled students to witness a variety of safe chemistry experiments within their homes, and allowed kids access to equal education opportunities. "Seeing a student's face light up with fascination is a remarkable sight. I loved the satisfying feeling that came from introducing a new, wondrous subject to a student." Sponsor: Marilupe Hren, Teacher.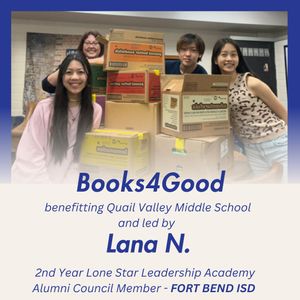 Fort Bend ISD
Lana N., 2nd year member
Project: Books4Good - Olivia and Lana organized and executed a book drive called Books4Good, where they recruited a student from Dulles High School to help sort the donated books. They successfully collected 291 elementary and middle grade books from their community, with 52 of those books donated to the Quail Valley Middle School Library and 239 books donated to the Sienna Branch Library. This project impacted students in the Fort Bend ISD community by raising the availability of books within Fort Bend ISD to enrich the minds of many more young readers. "This experience truly showed me the importance of communication and effective time management, especially now that I am a high school student. Working with Olivia was also a great way to expand my collaboration skills." Sponsor: Brittany Revia, English 1 AAC Teacher.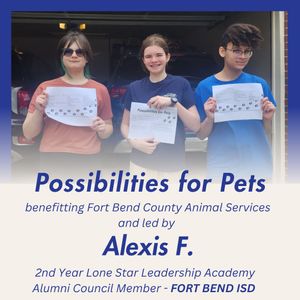 Fort Bend ISD
Alexis F., 2nd year member
Project: Pawssibilities for Pets - Alexis recruited two friends, Adriah and Kiersten to collect donations for Fort Bend County Animal Services. They collected $205.88, 15 towels, two pet bowls, a leash, a bottle of hand sanitizer, four pet pads, five blankets, one set of king-sized sheets, and one cat house. "We learned better marketing techniques and that no matter how many times we are rejected, we need to keep going." Sponsor: Charles Summerhill, Application Architect.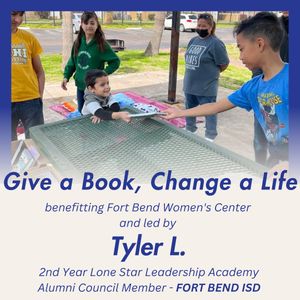 Fort Bend ISD
Tyler L., 2nd year member
Project: Give a Book, Change a Life – Tyler, his mother and his sisters, gave out 682 books equally to the Fort Bend Women Center, Domestic Abused Women and Children, Star of Hope, Homeless of Houston, and Afghanistan Refugees of Houston. This nonprofit helps adults and children experience a whole different world by supplying them with various books. "While doing this service project, I learned how to communicate with others and organize different schedules." Sponsor: Jam Lopez, Educational Diagnostician.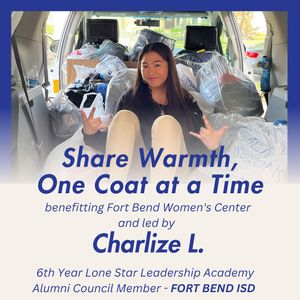 Fort Bend ISD
Charlize L., 6th year member
Project: Share Warmth, One Coat at a Time - Charlize recruited her family and some close friends to collect 280 articles of clothing, as well as, 124 laundry detergent samples and shampoo/conditioner sets. The donations benefited the Star of Hope, Houstonians Afghan Welfare Foundation, Pennywise Donation Center, and Fort Bend Women's Center. Making donations to the homeless, survivors of domestic abuse, and refugees has taught the group that even the smallest act of kindness can make a significant impact on someone's life. "When I started my service project, it became clear to me that effective leadership involves more than just taking command and assigning tasks—it also involves listening to, appreciating, and encouraging people around you. I gained valuable collaboration and communication skills, as well as the ability to motivate others toward a common goal, via this experience. Not only have service initiatives improved my leadership skills, but they have also made me a kinder, more sympathetic person overall." Sponsor: Jam Lopez, Educational Diagnostician.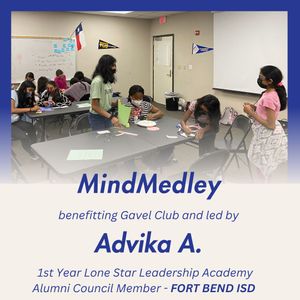 Fort Bend ISD
Advika A., 1st year member
Project: Mind Medley - Advika gathered volunteers from her school and brought people together with creative projects. They hosted sessions with middle schoolers and high schoolers to let them unleash their creativity. She helped a branch of Toastmasters, a gavel club, bond using her activities. This experience left the students as well as Advika more open to the possibilities when they use their creative mind. "Working with others, this project was made possible. Having support enabled me to make an impact." Sponsor: Kamilah Holme, Teacher.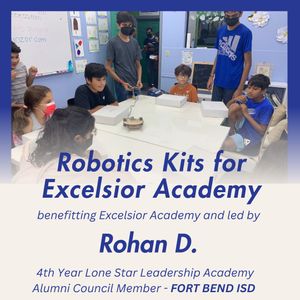 Fort Bend ISD
Rohan D., 4th year member
Project: Robotics Kits for Excelsior Academy - Rohan and a friend prepared a set of mini robotics kits for young students with learning disabilities at Excelsior Academy. They taught about 20 students how to assemble these kits over a four-week period and even demoed some more advanced robots, all to foster a greater interest in robotics in the students. The kids presented a newfound interest in entering the STEM field as a result of these efforts. "Despite setbacks in finding a potential recipient for our robotics kit donations due to lasting COVID restrictions, I felt accomplished by sparking a passion for STEM in a population that may otherwise have been unlikely to be exposed to such a field." Sponsor: Rajiv Mehta, Robotics Coach.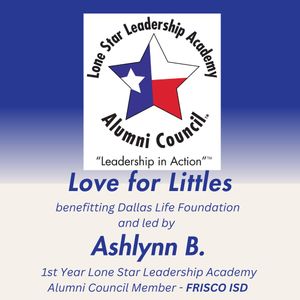 Frisco ISD
Ashlynn B., 1st year member
Project: Love for Littles - My stepsister, my friend, and I ran and advertised a toy drive. We collected around 200 toys, $150, and 150 small toiletry items for the homeless shelter. This impacted our community because a large amount of children and families in the DFW area are not as blessed to have toys or even simple hygiene products. "This experience has helped me by opening my eyes. A lot of young girls don't even have access to pads or tampons and I think just seeing that really made me realize how blessed I am and how we can all step up and help our community." Sponsor: Brandi Bullard.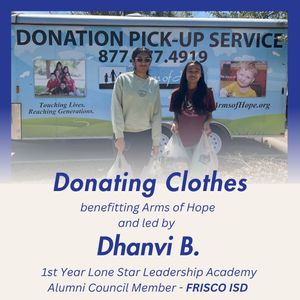 Frisco ISD
Dhanvi B., 1st year member
Project: Donating Clothes - I recruited one friend, and we collected 60 clothing items. The donated items we collected filled four bags. "We rise by lifting others."- Robert Ingersoll Sponsor: Vishnu Bethalem.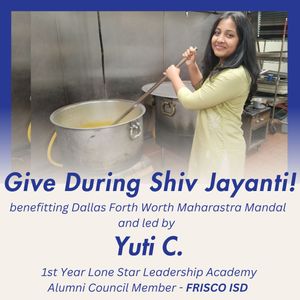 Frisco ISD
Yuti C., 1st year member
Project: Give During Shiv Jayanti! - Yuti recruited four friends to help her give back to the community in a cultural south Asian event. We made healthy meals for over 200 people. "Leadership is not about having success, but about using your talents and resources to serve those in need." Sponsor: Rahul Ghandi.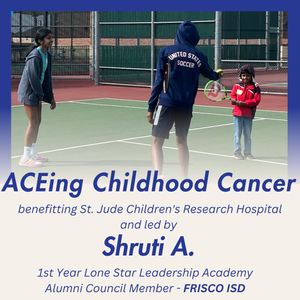 Frisco ISD
Shruti A., 1st year member
Project: ACEing Childhood Cancer - Shruti has been learning tennis for the past four years and played competitively. However, she felt she could do more. She leveraged her skill set to raise $500 for St. Jude's. She taught basic tennis skills to around 20 kids with her brother. With these funds she was able to achieve her goal and provide an hour of physical therapy to a patient. "This program was a success in many ways. The kids had lots of fun and parents wanted to schedule additional sessions. But most importantly, I was able to meet my goal of raising $500 for St. Jude's. I was able to use my passion for tennis to help a cause." Sponsor: Jennifer Paine, School Tennis Coach.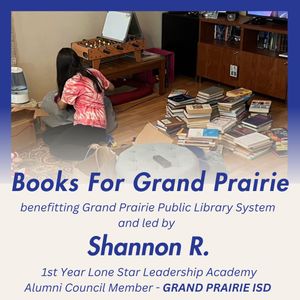 Grand Prairie ISD
Shannon R., 1st year member
Project: Books For Grand Prairie - Shannon along with her two friends helped collect and catalog 423 books donated by friends and families in the community. The books will go out to the Grand Prairie Public Library System to give kids and adults access to free books. "I learned how to lead a team and focus on one goal." Sponsor: Jennifer Sykes.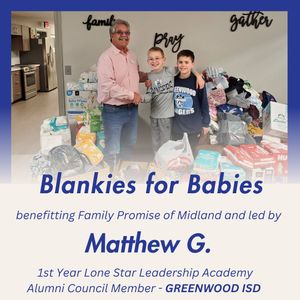 Greenwood ISD
Matthew G., 1st year member
Project: Blankies for Babies - Matthew Gather and Drake Smith created a project known as Blankies for Babies to benefit the Family Promise of Midland. They created many flyers, set up donation bins at various locations, and went door to door requesting donations and handing out flyers. Altogether, they collected and donated over 60 packages of diapers, 140 blankets, and 130 packages of wipes. "By developing and executing this special project, I became better at public speaking, and I learned how to finalize a project." Sponsor: Heather Brown, GT/DI Teacher.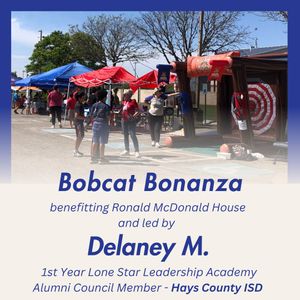 Hays CISD
Delaney M., 1st year member
Project: Bobcat Bonanza - I, Delaney McGurren, and a handful of my friends helped organize a 5k/1k run at my school in addition to games based off of sports our school offers, with the full support of our principals. We raised hundreds of dollars from this and ended up donating the money to the Ronald McDonald Charity nearby which helps give children and families food as well as lodging. We were able to interact with our community in a positive way while doing something for a good cause. "It helped me improve as a leader by showing me how to positively interact with my community and give other people the opportunity to be a leader as well." Sponsor: Aaron Lloyd.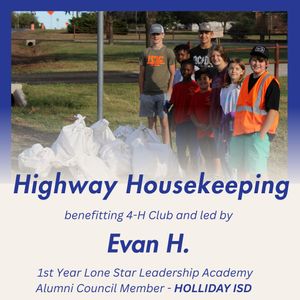 Holliday ISD
Evan H., 1st year member
Project: Highway House Keeping - Evan, his 4H club, and his boy scout troop did a two mile highway clean-up for adopt-a-highway, and the people who drive on the road in Holliday. The project will help drivers, other people, and the environment by making it a cleaner area. "I found that one way to be better, is to work as a team. One person can't change the world, but as a world we can. This experience taught me better teamwork skills" Sponsor: Maranda Revell, Archer County 4H Extension Agent.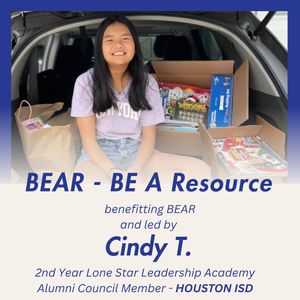 Houston ISD
Cindy T., 2nd year member
Project: BEAR - BE A Resource - Cindy and three of her fellow students distributed flyers asking for donations on behalf of the BEAR organization. They collected over 260 toys, 80 books, and 100 items of clothing for children in the Houston area. "I learned how to lead a team and communicate with people to reach a common goal." Sponsor: Alice Rowlands, Instructor.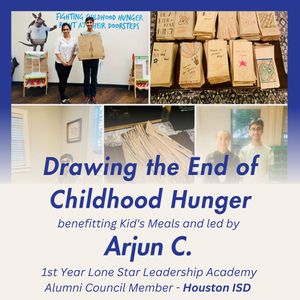 Houston ISD
Arjun C., 1st year member
Project: Drawing the End of Childhood Hunger - For my project, I got the elementary students to decorate 1-2 brown paper bags each. To do this, I got two of my friends to help count and the elementary art teacher to get the bags to the kids. After all of that, we ended with 896 bags. "This experience was a wake-up call for me to remember not to procrastinate. If I didn't procrastinate, I probably could have reached 1000 bags." Sponsor: Junrui Garcia.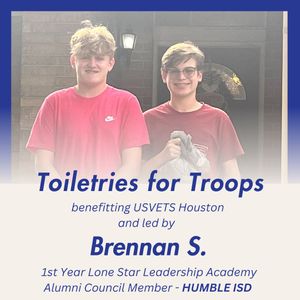 Humble ISD
Brennan S., 1st year member
Project: Toiletries for Troops - Brennen recruited two friends and sent out texts and posts to tell people about his collection drive for veterans. He collected a total of $1,300 worth of toiletries donations for the USVETS organization. This was a total of 378 items and he is still getting more. It made a great impact on my friends and they have been very supportive. "If you are stressed step away, breathe, and think." Sponsor: George Mayhall.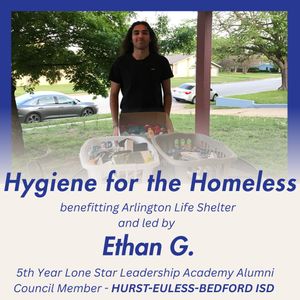 Hurst-Euless-Bedford ISD
Ethan G., 5th year member
Project: Hygiene for the Homeless - Ethan Gandham, with the help of his mom's workout community, collected hygiene items for the Arlington Life Shelter. He managed to gather 650 items from this group and helped the residents of the Arlington Life Shelter. He was able to spread homeless awareness throughout his community and positively impact his own leadership skills throughout the process. "This experience has been able to help me improve my leadership qualities through using public speaking skills and teamwork in order to spread the word of the project." Sponsor: William Wells, Counselor.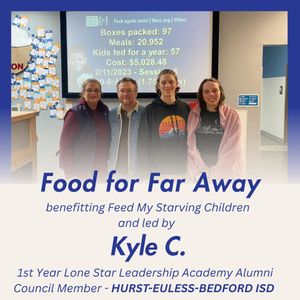 Hurst-Euless-Bedford ISD
Kyle C., 1st year member
Project: Food for Far Away - Kyle, along with a small group of personal volunteers and a larger group of strangers, got together and volunteered for "Feed My Starving Children" by packaging meals to be sent to Kenya. Each of these packages would feed six people with 36 packages per box. With a total 97 boxes, Kyle and the volunteers fed around 57 children for over a year! "I learned how to delegate tasks and lead a group in a fast-paced environment." Sponsor: Joseph Nicholas, Teacher.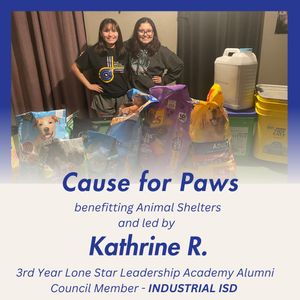 Industrial ISD
Kathrine R., 3rd year member
Project: Cause for Paws - Kathrine Ramirez, along with the help of two friends, gathered donations of pet food from the community to donate to Dorothy H. O' Connor Pet Adoption Center and Animal Control for the holidays. The donations helped the shelters with much needed food to the wonderful pets looking for adoption. "I was able to incorporate my hobbies and leadership skills into my project and it helped me to create a fun and amazing experience." Sponsor: Emma Ramirez, Parent.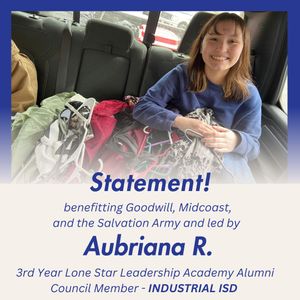 Industrial ISD
Aubriana R., 3rd year member
Project: Give Clothes and Make a Fashion Statement! - Aubriana and two of her classmates collected many clothes from people all around their community. They then drove to their local thrift shops and donated the clothing for people who are unable to express themselves due to the lack of "cute" clothing options in their budget. The group strengthened their public speaking abilities and their teamwork in order to collect and donate the clothing. "I'm so glad I chose this service project because this experience helped me strengthen my public speaking ability and I was able to make a difference along side my friends." Sponsor: Emma Ramirez, Parent.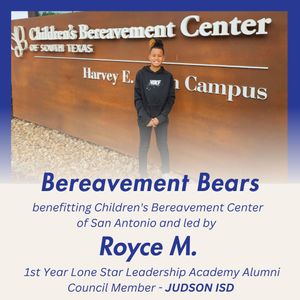 Judson ISD
Royce M., 1st year member
Project: Bereavement Bears - Royce, with the help of his school, organized a teddy bear drive during the month of February. They were able to collect over 30 teddy bears which were donated to the Children's Bereavement Center in San Antonio. The bears will be given to children to help cope with the loss of a loved one. "I really enjoyed getting the school involved with flyers and announcements for the teddy bear drive. It helped me understand how to be a better leader as well as helping others along the way." Sponsor: Derrick Byrd, Teacher.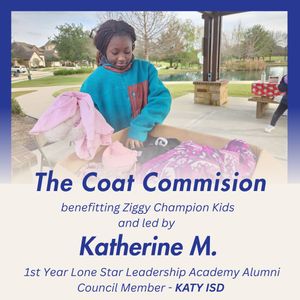 Katy ISD
Katherine M., 1st year member
Project: The Coat Commission - Katherine and a group of her fellow camp alumni went around her community and collected 50 coats, scarves, and other warm winter clothing from her neighbors, friends, and family. While providing other people in need with coats amidst the nationwide cold front, the project also helped Katherine and her friends develop stronger problem-solving skills . "This project was a very unique experience because while I got to help others I also had to find ways to problem solve and make sure that my project successful" Sponsor: Tola Marinho, Guardian.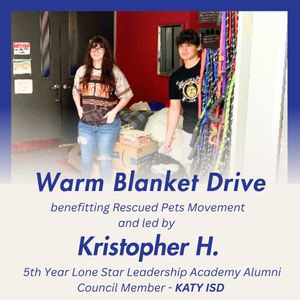 Katy ISD
Kristopher H., 15th year member
Project: Warm Blanket Drive - Kris enlisted his school and neighborhood to collect blankets, towels, and sheets for a local organization that saves animals on the euthanasia list at shelters and finds them homes in Colorado. The animals are in desperate need of towels for the transports they do every week and he filled two and a half trucks. "It takes one person to be passionate, to lead people for good." Sponsor: Marlea Hodgin, United Safety Supervisor.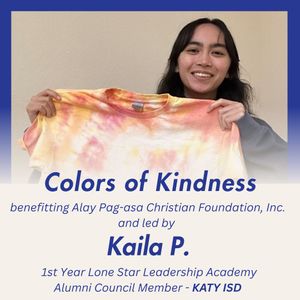 Katy ISD
Kaila P., 1st year member
Project: Colors of Kindness - I, Kaila Pierson, recruited the help of 13 of my fellow classmates to complete my service project. In this project, we were able to tie-dye, decorate, ship, and donate 100 t-shirts to the Alay Pag-asa Christian Foundation in Barangay, Philippines. This foundation is a shelter program for children and families living on the streets, and the shirts provide a colorful spark to a day that may have otherwise been gloomy. "This project aligned my love of creativity with my respect and appreciation for the Filipino community, and shaped the way I view the world and those around it. By exploring and honing my skills of dependability, patience, and providing instructions, I have become a better leader." Sponsor: Maria Carmen Pierson.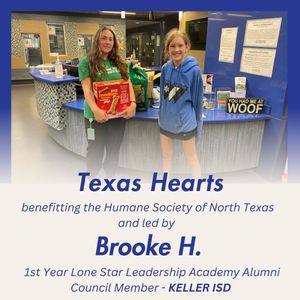 Keller ISD
Brooke H., 1st year member
Project: Helping HSNT Hearts – Brooke, her brother, and cousin collected donations for the Humane Society of North Texas. She collected over 30 pet items that her community donated. "This experience helped me improve as a leader because it taught me not all animals have all the things they need and donating makes a big difference." Sponsor: Monica Hayes, Parent.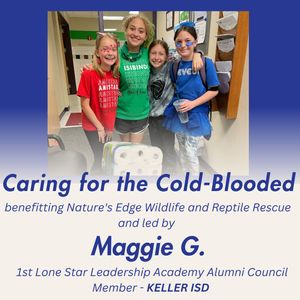 Keller ISD
Maggie G., 1st year member
Project: Caring for the Cold-Blooded - Maggie collected items for Nature's Edge Wildlife and Reptile Rescue (NEWRR) that they need most. Her teacher hosted a donation box, she distributed flyers in her neighborhood, and her mom shared her project on Facebook. She collected 44 rolls of paper towels, 34 baby blankets, 401 puppy pads, 16 flat bed sheets, and 608 ounces of Dawn dish soap - all of which will help NEWRR take care of their rescue animals! "After seeing my brothers do service projects over the past few years, I couldn't wait to do my own. I learned how fun it can be to lead others in helping a nonprofit organization, especially one that helps animals!" Sponsor: Rebekah Ortiz, Teacher.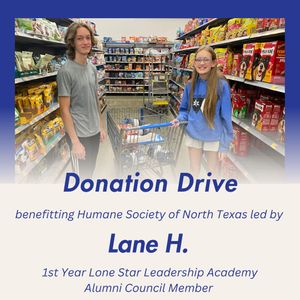 Keller ISD
Lane H., 1st year member
Project: HSNT Donation Drive - Lane and Brooke asked their neighbors and family for donations to benefit the Humane Society of North Texas. They collected around $150 worth of pet care supplies. This donation helped ensure the health of rescue animals in the Humane Society's care. " Sponsor: Monica Hayes, Parent.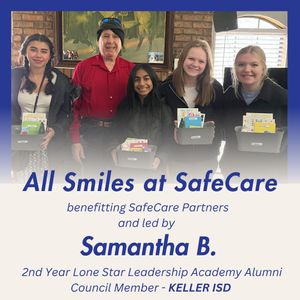 Keller ISD
Samantha B., 2nd year member
Project: All Smiles at SafeCare - Samantha and her three friends teamed up to make 20 craft bins for a special needs group home. These bins included a coloring book, crayons, a blank journal, four sticker sheets, and two mini stuffed animals. They hand delivered them to the residents during the holidays to bring them some cheer! "I have truly never felt more proud of myself and I am amazed at what I have learned throughout the project. This is an experience I will forever cherish." Sponsor: Julianna Morris, English Teacher.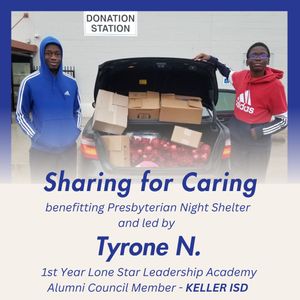 Keller ISD
Tyrone N., 1st year member
Project: Sharing for Caring - Tyrone and his brother collected new clothes, blankets, and towels to deliver to the Presbyterian Night Shelter. This helped a lot of people in the shelter, by providing them with clean cloths and sleeping materials. "This project showed I can contribute to society by helping those in need."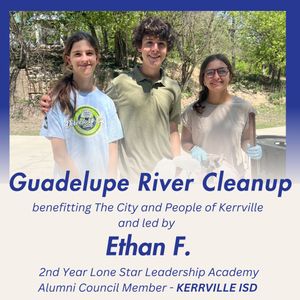 Kerrville ISD
Ethan F., 2nd year member
Project: Guadalupe River Cleanup – I recruited nine volunteers to join help me collect trash along the Guadalupe River. During 51 combined hours, we collected around 32 bags of trash. Our project impacted the city as a whole and the people who enjoy the river trail. It also helped to get some of our group members, who were less keen on going outside, to join us for a good cause. "This experience taught me that planning and execution are the most important aspects of a service project." Sponsor: Skye Farhoudi.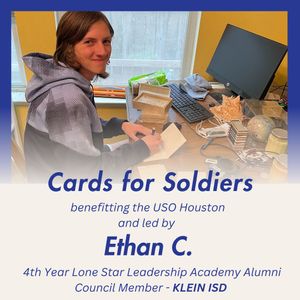 Klein ISD
Ethan C., 4th year member
Project: Cards for Soldiers - Ethan enlisted family and friends to create cards to help with the homesick feeling the soldiers experience. Ethan organized people to sign 100 cards to send to the troops at an Army base in El Paso, Texas. These cards help the soldiers feel a little piece of home while on deployment. "Make sure you get the priorities done before you do the fun and extra things in your life." Sponsor: Leah Yargo, World Geography Klein Prep Teacher.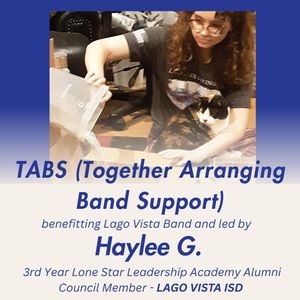 Lago Vista ISD
Haylee G., 3rd year member
Project: TABS (Together Arranging Band Support) - Haylee, with the help of members of her community, came together and collected the can tabs from cans of soda. Once collected, the tabs were turned in for money that would go directly to the Lago Vista Band. "Anything is possible with love and support from the people around you" Sponsor: Naomi Giroux, Band Booster Member.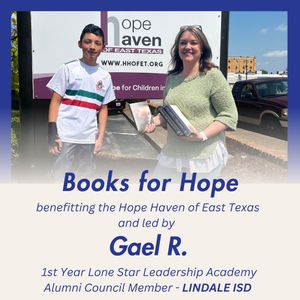 Lindale ISD
Gael R., 1st year member
Project: Books for Hope - Gael enlisted the help of his friend Alejandro Agudelo to request and collect book donations. Gael also put together flyers to post in the school hallways. Together they collected 26 books for the teenage girl residents of Hope Haven of East Texas providing them with the joy of imagination. "Despite the slow start, we did not give up hope and continued to spread the word for our book drive. It felt good to help the teenage residents with traumatic pasts have some escape through books." Sponsor: Tracie Rand, Principal.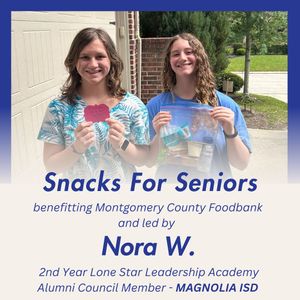 Magnolia ISD
Nora W., 2nd year member
Project: Snacks For Seniors - Nora and two friends packaged 50 "Senior Snack Packs" to benefit Montgomery Foodbank's monthly drive for elderly people in the community. Along with packaging the snacks donated by her family, she made cards for each bag to help bring some creativity and joy to the recipients. "I learned that things do not always go as planned and sometimes you even have to create a different plan. This helped me to become a better leader by improving my ability to adapt to certain situations or issues." Sponsor: Jeff Woytek.
Maud ISD
Graham H., 4th year member
Project: Share A Toy - Graham, along with the Maud Student Council, collected toys for the Maud community. The children of Maud were blessed during the holiday season by the 163 toys donated. "The holiday season is a joyful time in children's lives. I hope that our donation put smiles on so many faces. Team work really was the key to making this a success. I reached out to sources I felt would help me to get a greater response to my project." Sponsor: Kayla Harrell, Counselor.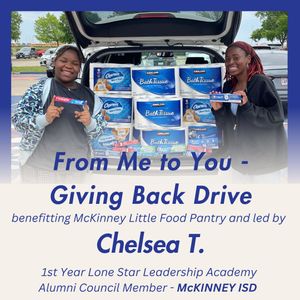 McKinney ISD
Chelsea T., 1st year member
Project: From Me to You - Giving Back Drive - I collected items the McKinney Little Food Pantry needed, such as toilet paper and toothpaste. "I was able to help others and give back in a small way. Through that, I was able to experience a form of leadership I have not experienced and give back kindness." Sponsor: Contessa Falconer.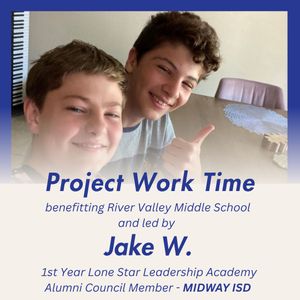 Midway ISD
Jake W., 1st year member
Project: Project Work Time - Jake needed some extra time at school to finish his work, and he soon realized that he wasn't the only one. He enlisted help from his two best friends to create a plan to allow students to go to other classes to finish work and study during a time called advisory. The plan used students to be hall monitors and stop any fights during this time period. "We learned that something that seems very far away can be achieved with a little hard work and a little help." Sponsor: Mindy Barnes, Teacher.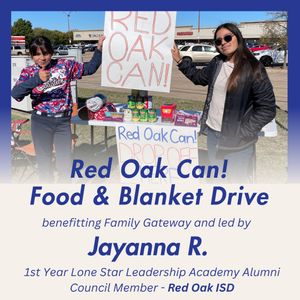 Red Oak ISD
Jayanna R., 1st year member
Project: Red Oak Can! Food & Blanket Drive - Jayanna recruited her softball teammate, Zoe, and together they held two canned food and blanket drives for families in need. They received and donated 45 blankets and four large totes of canned food and dry goods. "We decided to host these donation drives during the Fall/Winter months to help families during the holiday season which proved to be challenging. It was cold on the days we were set up, and it was hard motivating people to bring donations during this time of the year. However, with social media shares, flyers, and word of mouth we had an overall successful event each time." Sponsor: Amy Gallegos, Team Mom.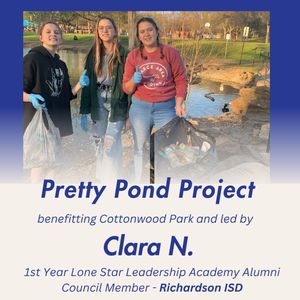 Richardson ISD
Clara N., 1st year member
Project: Pretty Pond Project - Clara, Mayce, and Zoe helped clean the park and pond in the Cottonwood Park. This benefited both the three girls and families who go to the park. This park is where festivals take place and it has a river that leads to more bodies of water, which the trash would flow down. They picked up two and a half bags of trash surrounding the pond, and they has got to meet new people who helped and supported their view of the park. "It may seem that doing a couple park cleanups will not affect big things; however, changes, no matter how small, can make big differences!" Sponsor: Cayce Neill, Teacher.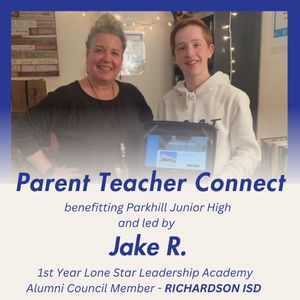 Richardson ISD
Jake R., 1st year member
Project: Parent Teacher Connect - Jake recruited two friends to help strengthen the communication at their school. He led them in creating a website to document teachers' contact information. Together the website and document help keep parents in touch with the school and teachers. "I learned leading is persevering, moving forward no matter what." Sponsor: Rebecca Gray, Teacher.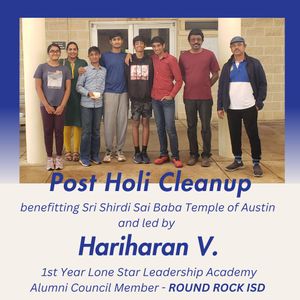 Round Rock ISD
Hariharan V., 1st year member
Project: Post Holi Cleanup - Hariharan along with a group of volunteers and two friends cleaned up the temple after their annual Holi festival. This included restocking donated food, cleaning and rearranging items in a shed, picking up trash along the premises, and cleaning/clearing a performance hall. This helped restore the temple to working order for coming worshippers. "The service project helped me to better interpret instructions given and how to communicate that and complete it efficiently with the members of the service project." Sponsor: Neeraja Erraguntala.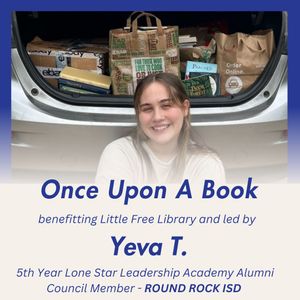 Round Rock ISD
Yeva T., 3rd year member
Project: Once Upon A Book - Yeva and two of her musical theater friends advertised her book drive in their classes at school and work places, and collected over 200 book donations. Since the book drive accepted all books with any age range, it not only benefited children, but anyone without easy access to books as well. A large majority of books were donated by Yeva's dance team, which was eager to help. "This year I advertised my project more than I did in years past, and it helped me realize that I shouldn't be afraid to reach out to people because a lot of them want to help as much as I do." Sponsor: Alaina Flores, Director.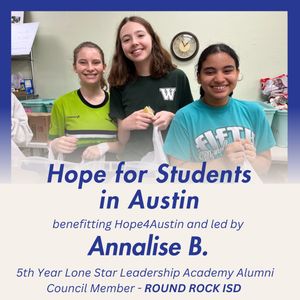 Round Rock ISD
Annalise B., 5th year member
Project: Hope for Students in Austin - Annalise recruited two of her peers to volunteer at Hope4Austin, a nonprofit organization that provides meals to students in need. They helped to put together weekend bags with snacks and breakfast foods, and with the help of another organization, they put together over 1,200 bags. These bags will be given to students in need so they have food over the weekends. "I learned that in order to make a big impact, the best place to start is with your community." Sponsor: Monica von Waaden, Founder of Hope4Austin.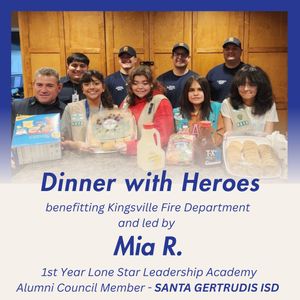 Santa Gertrudis ISD
Mia R., 1st year member
Project: Dinner with Heroes – Mia recruited and led three members of her Girl Scout Troop (9212) to provide a meal for the men and women of the Kingsville fire department. She chose this project to show her appreciation for their tireless commitment to keeping her community safe. "Gratitude has no age limit." Sponsor: Margie Carrales.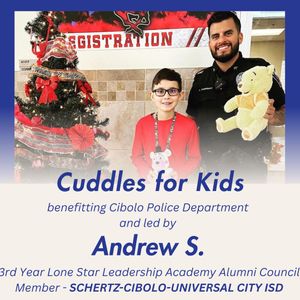 Schertz-Cibolo-Universal City ISD
Andrew S., 3rd year member
Project: Cuddles for Kids - Andrew and his Journalism teacher posted flyers around his school, and posted on the school's social media page. 216 stuffed animals were collected for police officers to give to comfort children during a difficult time. Half of the stuffed animals were donated to Cibolo Police Department and the other half was donated to Schertz Police Department. "I learned how to work with other who are different from me, but working with them made me a stronger leader." Sponsor: Tanya Mendez, Journalism Teacher.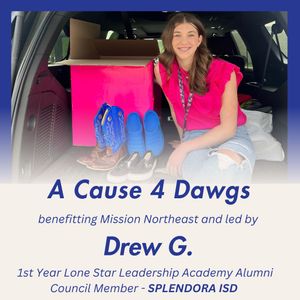 Splendora ISD
Drew G., 1st year member
Project: A Cause 4 Dawgs - Drew enlisted her friends and classmates to collect a goal of 20 pairs of new and used shoes for those in need. They collected 35 pairs of shoes for distribution by Mission Northeast in New Caney, Texas. "I became more insightful to how things are in my community and hope to continue to do my part to help the people around me." Sponsor: Nicole Mikel, Teacher, NJHS Sponsor.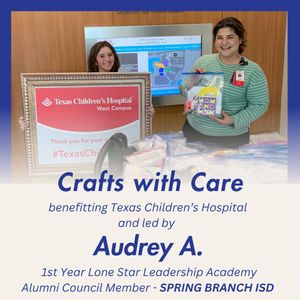 Spring Branch ISD
Audrey A., 1st year member
Project: Crafts with Care - Audrey recruited her friend Lyla to help her fill 48 giant Ziplock bags; each bag contained four rainbow scratch butterflies, a coloring book, a tic tac toe game, a small squish toy, a slinky, a tiny pack of crayons, a coloring book, and a tote bag with a fun picture similar to the coloring books to color. This project gave me many flashbacks to my time in the Texas Children's Hospital and allowed me to pay the staff's kindness forward. "Seeing the finished craft bags took me back to the summer I spent in Texas Children's Hospital with fluid around my lungs when I was six years old. The hospital had this program called Radio Lollipop that you could dial in from your room for song requests and prizes. I was OBSESSED with every bit of it. You got to create art projects brought around on the craft carts and win prizes from entering your creations into the program's competition. Every bit of it made me the happiest child in the hospital. I hope that my craft kits bring the same amount of joy to every child that receives one." Sponsor: Richard Anderssen.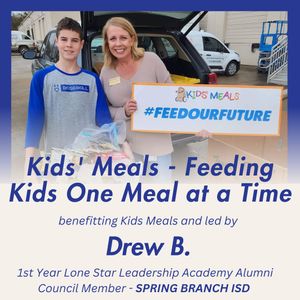 Spring Branch ISD
Drew B., 1st year member
Project: Kids' Meals Feeding Kids 1 Meal at a Time - Drew collected over 800 nonperishable food items needed to make a well-balanced meal for hungry kids in Houston. He enlisted his four cousins, younger brother, and three friends to help make over 165 lunch bags. They delivered the bags to Kids' Meals where they also spent the afternoon in the preparation room assembling 750 more lunch bags with the donations collected from Kids' Meals. Kids' Meals feeds children who are not old enough to attend school, making sure no child goes hungry. "I realized it takes a village in order to achieve the goal I had of making at least 150 lunches for Kids' Meals. I inspired my community and had a well-organized plan which made my goal achievable. Through hard work and dedication I was able to surpass my goal and learn how to lead a group in a positive way." Sponsor: Jackie Bagos, Teacher.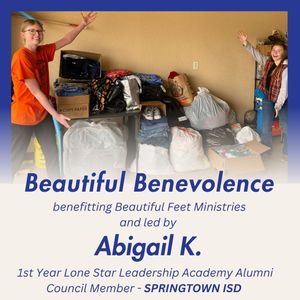 Springtown ISD
Abigail K., 1st year member
Project: Beautiful Benevolence - Abby and her best friend Lily collected and delivered several large bags and boxes of clothes and hygiene items to Beautiful Feet Ministries in Fort Worth, Texas. The items were distributed to homeless individuals that needed the resources most. The homeless people were very blessed and thanked them for their new belongings. "I learned how to take charge and really put myself out there in order to receive all of the donations for the less fortunate." Sponsor: Wendy Kennedy, Teacher.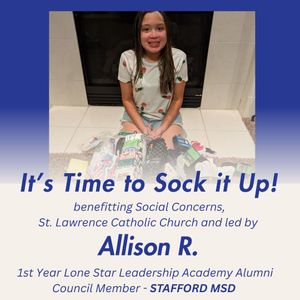 Stafford MSD
Project: It's Time to Sock it Up! - Allison asked her fellow student council members to help her collect socks for refugees. The team collected 157 pairs of socks for babies, children, teens, and adults. The socks were donated to St. Lawrence Catholic Church Social Concerns for Refugees. "It warms my heart knowing this small donation is helping people get a new start in this country. I faced many setbacks but this project taught me how to troubleshoot issues that came up. This experience made me stronger as a leader and made me feel included in my community." Sponsor: Patricia Rodriguez, Mother.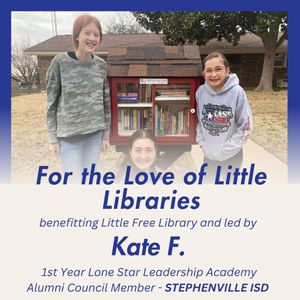 Stephenville ISD
Kate F., 1st year member
Project: For the Love of Little Libraries - Kate recruited two students to help with her Little Library project in order to give back to the community that had given her so much. Together they collected 83 gently used library books and 13 magazines and fully stocked three different local free Little Libraries. "I improved as a leader by expanding my planning abilities and by knowing my purpose for doing this Little Library project. Nothing worth time will be achieved without knowing your why." Sponsor: Tametha Barker.
Wall ISD
Mason M., 1st year member
Project: Friends, Fellowship, Food - Mason recruited five family members and friends to help prepare and serve meals to the San Angelo homeless community. The day before they served, they prepared 30 meal bags in the kitchen. "This project helped me improve as a leader by showing me that if you lead with kindness it will give others hope." Sponsor: Chelsie Benson.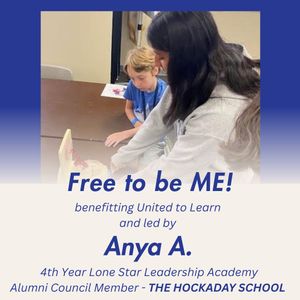 Private School
Anya A., 4th year member
Project: "Free to Be ME!" - Anya and seven of her HOSA team members designed and hosted a free after-school camp that paired science and literacy with socio-emotional learning. The camp served 65 Dallas ISD - WT White Feeder pattern students through 30 hours of instruction, guiding them through hands-on activities about their amazing bodies and relevant vocabulary. The camp benefited both the learners and instructors by promoting positive body image and self-esteem through the mindfulness theme, "Free to be ME!" "I could never have imagined the ripple effect of positive body-image messages that helped students understand themselves better and build empathy for others. My team and I learned just as much from the participants as they learned from us. We came away with so much more appreciation for each other!" Sponsor: Natasha Bagaria, HOSA Club Sponsor.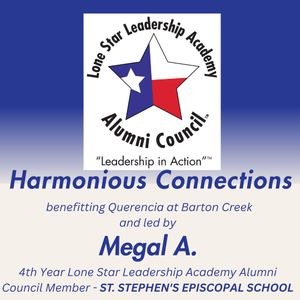 Private School
Megal A., 4th year member
Project: Harmonious Connections - Megal recruited her orchestra director and private lesson teacher to put together three musical performances for senior residents of Querencia at Barton Creek. Megal's performances helped bring the joy of music to her audience while allowing her to share her musical talent. "My experience organizing this project taught me the importance of building community and strengthening connections with people we might not often see in our day-to-day lives." Sponsor: Rebecca Gibbs.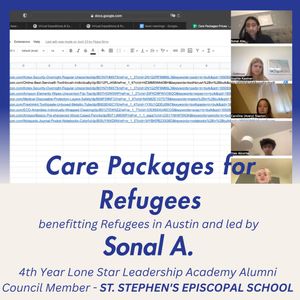 Private School
Sonal A., 4th year member
Project: Care Packages for Refugees - I gathered a group of volunteers to make care packages for local Austin refugees. Together we assembled care packages that included items such as toothpaste, hand sanitizers, and masks. "I developed organizational skills that I will continue to use." Sponsor: Radhika Alla.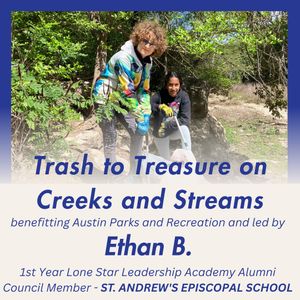 Ethan B., 1st year member
Project: Trash to Treasure on Creeks and Streams - For my service project I recruited my friend Anita and my dad to clean up seven creeks in Austin with me over Spring Break. In total, we collected 27 thirteen-gallon trash bags of which eight contained recyclable trash. "I've learned that my original plans almost never work out and I have to be flexible to make adjustments on the fly due to weather, traffic, and other events." Sponsor: Shirley Cohen.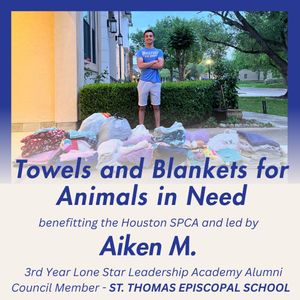 Private School
Aiken M., 3rd year member
Project: Towels and Blankets for Animals in Need - Aiken enlisted the help of the office manager and receptionist from his workplace and his sister Aarya, a 3rd grade student, to help with his service project. Flyers were created and distributed to raise general awareness for their cause in their neighborhoods and workplace. They worked together using various methods to collect and donate the clean used towels for the Houston SPCA animal shelter. One hundred towels and blankets were collected in total. Towels are the Houston SPCA's most urgently required item according to their website, therefore, the towels donated greatly benefited the animals at the shelter. "Managing this service project aided me in learning to better appreciate the value of time management as well as furnishing me with the opportunity to implement a real world project in a professional workplace environment" Sponsor: Karan Madan, Doctor.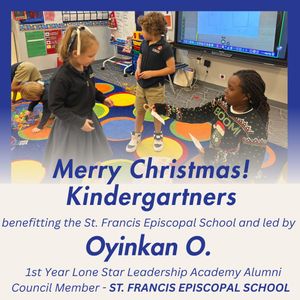 Private School
Oyinkan O., 1st year member
Project: Merry Christmas, Kindergartners! - Oyinkan and Anice made 70 Christmas Cards for the Kindergartners at St. Francis Episcopal School. The cards benefited both kids and their teachers. In addition, making the cards and giving them out really showed how much we love them. "I encountered long nights and rough mornings, but working through them gave me more motivation to be a better leader. It felt good to see the kids' excitement and happiness." Sponsor: Anice Thompson, Student.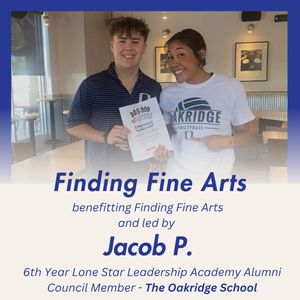 Private School
Jacob P., 6th year member
Project: Finding Fine Arts - Jacob co-founded a nonprofit organization, Finding Fine Arts. Finding Fine Arts provides grants to organizations involved in teaching/encouraging adolescents to participate in the fine arts. Grants can also be awarded to individuals through an application and selection process. This service includes grants, financial aid, and/or donations to organizations and individuals involved in or associated with the fine arts. Jacob and his classmate and co-founder Kristina raised over $1,000 over the course of two fund raisers. "This experience taught me the importance of taking initiative and doing things your self, because no one will do them for you." Sponsor: Jennifer Pasteur, Executive Director.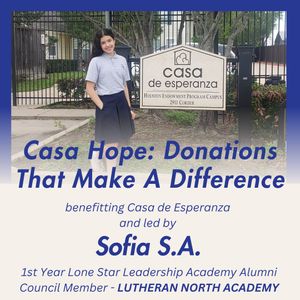 Private School
Sofia S.A., 1st year member
Project: Casa Hope: Donations That Make A Difference - Sofia Solano-Arango and seven of her fellow national junior honor society members raised awareness about a food and supply drive for Casa Hope, a place that houses orphaned children and families in need. By making announcements, posters, and going door to door around her community, she managed to collect approximately 1143 items. "Sometimes it was hard not to lose hope, but I kept pushing through. Helping those in need made it all worth it." Sponsor: Sofia Solano-Arango, Teacher.
Charter School
Lance T., 2nd year member
Project: Cats vs. Dogs - Lance raised $1,000 worth of goods to be donated to Aggieland Humane. This included dog/cat food, toys, crates, and beds. Sponsor: Sarah Tobola.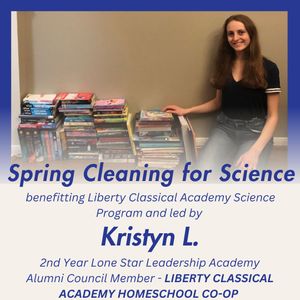 Home School
Kristyn L., 2nd year member
Project: Spring Cleaning for Science - After talking to one of her school's science teachers, Kristyn enlisted her fellow honor society members to raise awareness about the need for new science equipment. By collecting books, CDs, DVDs, and other similar items, selling them, and forwarding the proceeds to the Liberty Classical Academy Science Program, money was raised to assist in the purchase of new microscopes. All unsold items were donated to Goodwill in hopes that those in need may enjoy them. "This experience allowed me to positively impact and support a program that encouraged the love of science I have now. As this was my second LSLA Alumni Council service project, I had the ability to improve upon certain elements of last year's assignment, and I only expect such projects to become stronger, more efficient, and more cohesive in the coming years." Sponsor: Wendi Lacki, Liaison to School.