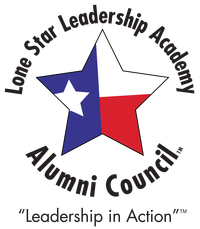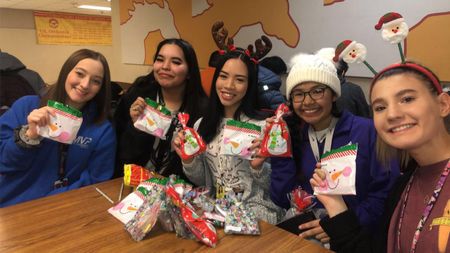 Alumni Council members exercise and build leadership muscle by creating and leading personally selected SERVICE PROJECTS. In addition, members complete THREE LEADERSHIP MODULES each year. Members have the option to return on Lone Star Leadership Academy camps as YOUTH FACILITATORS.
WHO?
Any student that completes a Lone Star Leadership Academy camp may join.
WHERE?
Because our camp participants come from all over Texas, the Alumni Council program is conducted online and via e-mail so ALL alumni may participate!
WHAT?
CREATE and LEAD a SERVICE PROJECT
Complete three LEADERSHIP MODULES
Build a LEADERSHIP PORTFOLIO
Get a cool Lone Star Leadership Academy Alumni Council T-SHIRT
WHEN?
Program takes place SEPTEMBER-MAY, one to four years or more – YOU decide
WHY?
EXERCISE and DEVELOP your LEADERSHIP SKILLS
Make POSITIVE CONTRIBUTIONS in your community
Opportunity to return to camp as a YOUTH FACILITATOR
Gain experience for your ACADEMIC RESUME
"The Alumni Council has been an amazing experience for me to take learning to the next level. I've been able to apply myself in a leadership role in my community." - Participant, Houston, TX
"I learned how to advocate for a cause I feel passionate about."
– Ava S., 10th Grader, Plano ISD and 3rd Year Lone Star Leadership Academy Alumni Council Member
"I learned that a leader must be adaptable and optimistic. Once my school was moved online and my county issued a shelter in place, we had to adjust our plan in order to succeed, all the while staying positive about the outcome."
-Mazie J., 10th Grader, Rockwall ISD and 2nd Year Lone Star Leadership Academy Alumni Council Member
"I learned not to just sit back and do nothing about a current problem; but instead not only get up and do it, but lead others through the journey."
-Lindsey J., 7th Grader, Hallsville ISD and 1st Year Lone Star Leadership Academy Alumni Council Member